ANTS can alleviate your problems by providing a Project Management service or independent modules thereof.
ANTS Projects offers project management courses and project management training in a variety of fields. We hope you will contact us soon to discover how our project governance can help you.
If you want to take your company's project management development to the next level, you should join the fast-growing list of firms that work with ANTS Projects. We offer an unparalleled level of project governance. Our staff provides project management training to individuals who work in a number of industries. No matter what sort of project management courses you and your team are interested in, we can plug you into the right program. All of our PRINCE2® training classes are renowned for their effectiveness. Whether you are interested in one of our full project management plans or you would prefer to invest in our "Project in a Box" software, you are sure to be impressed with all of the services we have to offer. Call or email the ANTS project management office to get started today.
Product Overview
OnePager Pro timeline software is an add-in to Microsoft Project that makes Gantt charts from task-level data. Present multiple project phases or a simple schedule as a PowerPoint timeline. OnePager presentation software makes these timelines simple to create, customize, and export.

Gallery
Here are examples of timelines created in OnePager Pro from project plan data in Microsoft Project: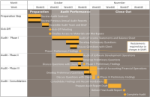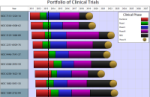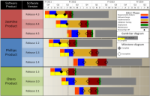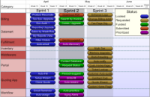 How it Works
It's simple to create a timeline of your project plan using OnePager Pro and Microsoft Project:
Select data from one or many Microsoft Project plans

Create a high-level or detailed view

Customize colors, fonts, and layouts

Apply conditional formatting rules

Group tasks into rows and swimlanes

Export to PowerPoint, web, or e-mail

Refresh your chart with updated information, and track changes over time